City harvest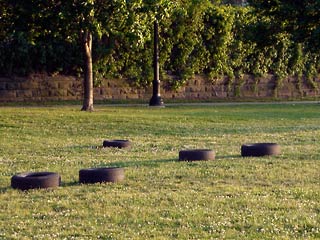 They spring up overnight without any effort on your part. You don't need to plant, water, weed or cultivate them. You just wake up one day and there they are, waiting to be harvested. What is this urban wonder crop? Old tires.
Since it costs money to dispose of tires, companies or individuals who work on cars avoid this expense by driving around urban areas at night and dumping piles of tires on tree lawns.
My guess is that this batch, about 15 in all, scattered in different places on the grass at Fairview Park across the street from my house started on the tree lawn and was rolled here and there by kids playing in the park.
What's a tree lawn? If you're not from Cleveland you may not recognize this name for the strip (usually grass) between the street and the sidewalk. In other parks of the country this is called a boulevard, berm, planting strip, or in Akron, Ohio, the devil strip.
Top | |