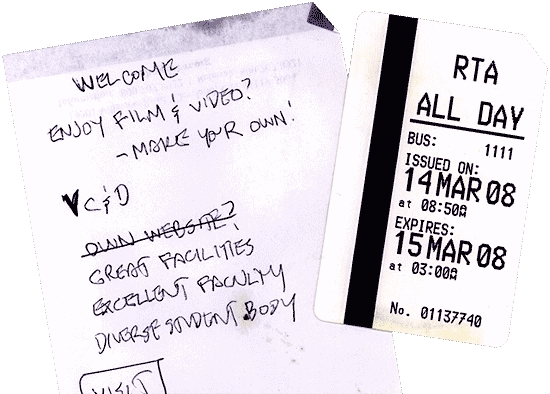 ---
Friday
This morning at the Cleveland International Film Festival I introduced a couple of films being shown to high school students, the very reasonable price I have to pay to get a pass to see more films. My notes above are an attempt to have a more focused message rather than just talking off the cuff. The notes were prompted by the day that a couple of students with behavior problems acted out in a pretty dramatic fashion and I lost track of what I was trying to say.
I bought a $4 RTA pass so that I could go home after the first film to have lunch with Joanne, then return around 4 pm to the The Pixar Story (more on that below). The pass worked out great—I took the Rapid between Tower City and the W. 25th stop and walked the rest of the way, less than a half hour each time. So I got some exercise, didn't use any gas or add pollution, and enjoyed the convenience of getting on/off the train right near the theaters.
French Short Films

In the morning I stayed to watch this group of five or six shorts, but by and large I wasn't impressed. The two animated films were interesting because of their very different styles of animation, but I doubt that I'll remember them after today. More memorable was Tomboy, a disturbing story of a ten-year-old French girl who plays soccer and other, far more dangerous games.
I knew that Steve Jobs was one of the founders, and that Toy Story was its first big hit, but before today I didn't realize just how successful Pixar has been. The innovative computer-animation company has a string of eight big hits, both artistically and financially. In case you don't get out much, they are: Toy Story, A Bug's Life, Toy Story 2, Monsters, Inc., Finding Nemo, The Incredibles, Cars, and more recently, Ratatouille. What most impressed me in the film is how much of the work is done on paper. There are many scenes of walls literally covered with hand-drawn storyboards, and the animators usually grabbed a piece of paper and a pencil to work out ideas before turning to the computer. This is something that most students don't understand—they tend to start on the computer before roughing out ideas in sketch form.
Empty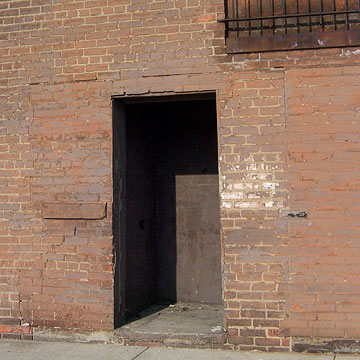 When I saw this doorway in the back of a West 25th St. store yesterday, the word empty just popped into my head.
Top | |