Sunrise Wednesday

Escargot on the hoof?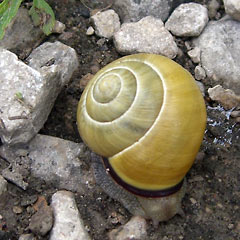 Today was rainy off and on throughout the afternoon. During a dry spell we walked through the old quarry in the center of the island and in one short stretch encountered four or five snails making their way across the gravel path. All but one were this golden color, about two inches in diameter.
I'm not a fan of eating squishy rubbery little creatures, garlic butter or not, but I do wonder if these guys are the same as those you buy at the store.
Top | |