Fred Eaglesmith
Went to the Beachland Ballroom tonight to hear Fred Eaglesmith on the strength of vague memories of hearing him on Jim Blum's WKSU Folk Show, and a good article in today's paper about the upcoming show. He talked about wanting the concert to have the atmosphere of a gospel revival (without the religion). Sounded like a good way to end what was a fairly stressful week.
We also had a $25 gift certificate to the Beachland, which cut the cost to less than half. I don't know if all college radio stations do this, but in our area each station has a yearly fund-raising event with premiums for different contributions. We've gotten great deals this way. You donate to support the music you listen to, and get a gift certificate often for the entire value of your contribution—a 100% return on your investment. We've done this with local restaurants, art galleries, and concert clubs. Hard to beat a deal like that.
This is true for the small, all-volunteer college stations like WCSB (Cleveland State) and WRUW (Case Western Reserve). WKSU, the Kent State NPR station is a much bigger operation with premiums that are not nearly as attractive. So while I probably heard Eaglesmith on WKSU, I listen to the other stations during the week for their blues, reggae and folk shows.
If you haven't tried college radio, be sure to dial down the FM to around 90, give or take a bit. WCSB is 89.3, WRUW, 91.1, and this is the typical range for college stations. You'll hear music unlikely to be played on commercial stations: lots of heavy metal, but plenty of folk, blues, reggae, ska, cajun, etc. The stations are usually run entirely by volunteers, who are sometimes annoyingly amateurish but always enthusiastic about whatever music it is they play.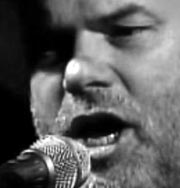 But back to Eaglesmith. He sounds like a cross between John Prine and Tom Waits with a Canadian accent (eh?). The songs he played were always enjoyable, sometimes funny, occasionally poignant. Unlike Prine and Waits, though, the lyrics never hit the level of poetry that you can't forget. Still, as a singer-songwriter I enjoyed him quite a bit. As a humorist, not so much.
His banter between songs was a bit strained at times as he tried to get a good-sized crowd laughing. I felt it was too much too soon: he only played one set about an hour long. I think had he taken a break and come back for a second set the crowd would have been more in tune with his music and the mood he was trying for. Maybe drinking more beer would have helped, too. I was waiting for the break to go back to the bar, but the show was over before that happened.
Find out more at the Fred Eaglesmith website. Visit the Milly's Cafe page and play the sample of 18 Wheels to hear how he sounded tonight. I liked this song a lot, and it's pretty representative of his work.
Top | |