Rain & sun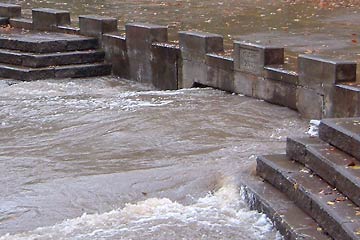 It started raining late last night and didn't stop until around lunchtime. I dropped Mom off at her apartment after a doctor's appointment and pulled into a parking area off Big Creek Parkway.
Even though the rain had slowed to a drizzle it was still swirling and foaming where it goes under the road. I wished I'd have been here when it was pouring, to see water going over the roadway at this section obviously built to accommodate that situation.
It's been one of those days when I got a lot of little things done, loose ends tied up, etc., and am left with the feeling of not accomplishing much at all.
Temperatures are much more normal for Fall, and rumor is that we'll see some sun tomorrow. Maybe encourage a final growth spurt for the tomatoes and peppers in the garden.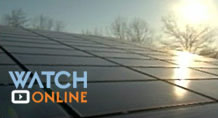 Good show on PBS tonight: Saved by the Sun. The website has good info from the show along with an excellent list of solar power links.
Or, if you prefer, click the picture at left to watch the show itself online. For me the best parts were Chapter One which shows Americans who are using solar power in their homes, and Chapter Four that describes German incentives that have spurred many solar power installations in that country.
If only we had similar government action in the U.S.!
Top | |