Laissez Les Bon Temps Roulez!*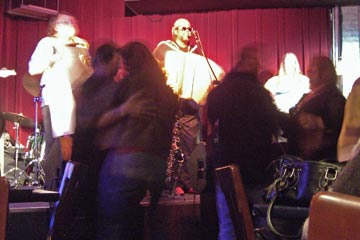 If Zydeco music like CJ Chenier and The Red Hot Louisiana Band played last night doesn't make you want to dance, nothing will. And you'd better check yourself for a pulse.
CJ, son of the late Zydeco star Clifton Chenier, is a big guy with lots of energy and multiple musical talents. He played the first couple of songs on the flute before switching to the accordion, which kicked off the dancing.
The crowd at Wilbert's didn't need any encouragement to hit the dance floor—the music was enough. CJ and the boys played for two hours straight, mixing a few slow romantic songs in with the rockers. It was non-stop energy and fun.
What a great way to spend a cold February night in Cleveland, soaking in a New Orleans musical vibe just a few days before Mardi Gras.
The only downside was the small crowd—fewer than a hundred people—about half what the club can hold. Even though I'm born and raised in Cleveland I'll never understand why people here don't take advantage of what we have. If Chenier were playing in Chicago or many other cities the cover charge would be double the $12 at Wilbert's, and the house would be packed. Here in downtown Cleveland the joint was half empty. Go figure.
*Let the Good Times Roll
Top | |