Touring the William G. Mather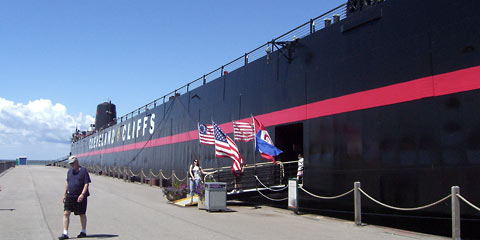 One nice thing about having visitors is that it gives you an excuse to be a tourist in your own town.
With Joanne's sister, brother (walking away from ship) and his wife in Cleveland for a few days we decided to visit the ore carrier docked on the lakefront, the William G. Mather museum.
You walk up the gangplank and into a section of the huge hold that used to be filled by thousands of tons of taconite pellets when the Mather was sailing between Wisconsin and the steel mills not far upstream on the Cuyahoga River. The ship is 618 feet long, and the self-guided tour takes you up through passenger lounges and the captain's cabin to the wheelhouse in the bow of the ship.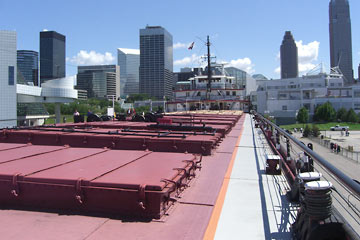 You then walk a long way down the deck to crew quarters and the engine room in the stern. This picture, taken from the stern of the vessel, looks towards the bow and beyond to the city skyline.
---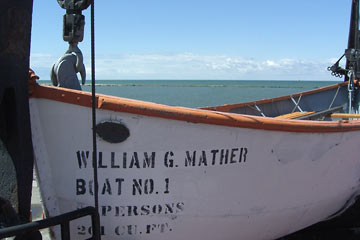 There are only two lifeboats, each capable of holding about twenty persons. The thought of being in a stormy lake in a small boat like this isn't reassuring. A similar lifeboat recovered from the wreck of the Edmund Fitzgerald shows just how fragile they are.
---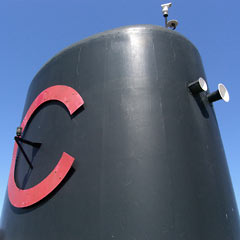 The Mather's stack, with a "C" representing Cleveland-Cliffs, the company that operated the ship until 1980. Something about the industrial-strength purity of these shapes appeals to me.
Top | |