DECEMBER 15, 2008
Keeping up the pace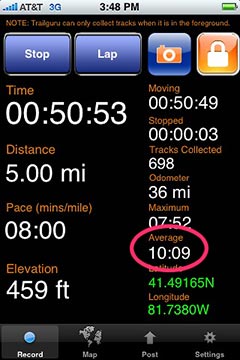 Today at Edgewater Park I used my iPhone and a helpful free app called TrailGuru to time my five mile run. Some days I feel like I'm just slogging my way around, but today felt pretty good. Still I was very happy to see the 10 minute/mile average.
I was probably in my best running shape in 1999 —I'd trained (sort of) for the half-marathon in Indianapolis—and averaged nine minute, thirty second miles in the race itself. I was happy with the pace then, and now I'm equally happy that I haven't fallen too far off that pace.
Of course thirteen miles is a lot more to run than five, but nine additional years don't generally help your strength or stamina. So I'm gonna take that 10:09 average (with a 20-25 mph wind from the West) as a good sign. Especially in light of my earlier struggle with the package that came in today's mail...
What's in a name?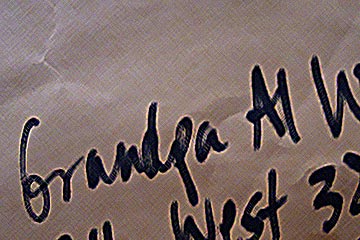 The package was a pleasant reminder of my birthday, a couple of days away. It was easy to recognize the handwriting as my daughter Sharon's, obviously filling in for her two kids, Jackson and Sam.
Here's the thing. I thoroughly enjoy the reality of being a grandfather. I have five grandkids, all cute and bright and charming, and it's great fun to play with them, read books together, go to the museum, and of course get birthday presents from them. So being a grandfather is a very good thing. It's just that I'd prefer to not be called a grandfather.
There's a saying that you're only as old as you feel, but that's mostly something we say to keep reality at bay. Once you get past a certain age—maybe forty, maybe fifty—every day you're reminded of that. It may be an ache or pain that greets you in the morning, or it may be the way that young person calls you "sir" or "ma'am." That's bad enough.
But "Grandpa"... wow. Those are old guys who have hair growing out of their noses and drive their Lincolns at 50 mph on the highway with one turn signal flashing. I'm not really one of them, am I?
Top | |