Mmmmm...mussels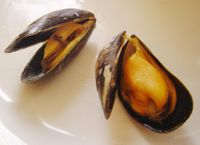 I dislike almost all seafood except for tuna in a can, clams in chowder, and mussels. Seeing as how mussels are squishy, slippery little critters that you eat whole, guts & all, there's no logical reason why I should even tolerate them, but I do.
It's become almost a ritual that when Joanne & I go to a restaurant we check the Appetizers section to see if they have mussels. If they do, we order them.
The best, by far, have been in France. One of the most memorable meals of my life was in a little French restaurant near our hotel where I ordered mussels in a curry cream sauce. Wow. I ate it very slowly to make it last longer. It was so rich I didn't want more, but I didn't want to stop eating it either.
But even at ordinary restaurants that sold moules frites—mussels with french fries—they were wonderful. Very tender, tasty but not overpowering.
Elsewhere the results have been mixed. In Cleveland the former Watermark restaurant served mussels in a white wine sauce that set a high standard. At many Midwestern restaurants, though, it's important to order on the day the shipment comes in from the supplier. On Kelleys Island we try to time our visits to the Island House for the day the ferry brings the week's supplies. When we hit it right we have very good mussels. On other days the mussels are likely to be tough or fishy-tasting.
In Cleveland we've settled on Snicker's as our favorite spot. They use lots of garlic, sun-dried tomatos and bacon in their sauce, and provide crusty bread that's perfect for soaking up any sauce left when the mussels are gone. Tonite we just about licked the bowl clean. The mussels were on the tough side, in my opinion, although Joanne thought they were fine. But we agreed that the whole package was very tasty.
TOP | | |