Party time
As I mentioned earlier, we've had a day-long open house every January 1st for more than thirty years. Some years we have to work up some enthusiasm to get everything ready, but not this year. We were looking forward to spending the day with friends and neighbors. The first guest arrived about 2 p.m., and we ended the final game of "Oh Hell" at 11:58 p.m.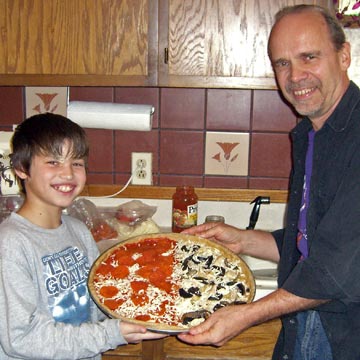 To start things off properly on the food front, my grandson Xavier and I made a pizza crust using a recipe from Chuck Myers, a friend from long ago who we haven't seen for many years. But Chuck's pizza, despite having both whole wheat flour and wheat germ in it, was popular with my son and his friends even when they were young teens, a very discriminating age. I've included the recipe below if you want to try it.
Xavier and I have different opinions about vegetables, so we split the pizza down the middle. He garnished half with Prego spaghetti sauce and pepperoni from the West Side Market. I did garlic, olive oil, sauteed portabello mushrooms and onions, and artichoke hearts.
We cut an equal number of slices, and our guests ate the same quantity of each: a tie.
Chuck's Pizza Crust
1 pkg. dry yeast
1 cup very warm water
1 tsp. honey
1/4 cup oil
2 cups white flour
1-1/4 cup whole wheat flour
3/4 cup wheat germ
1 tsp. salt
Preheat oven to 450 degrees.
Dissolve yeast in water, add honey, mix and put in warm place for about 5 min. until it gets foamy on top. Add 1/4 oil.
Mix dry ingredients together (replace some of the whole wheat and/or wheat germ with white flour if you want it to taste less "healthy"). The dough will be fairly stiff. Knead for a couple of minutes on a floured countertop or bread board. Flatten and spread with your hands/fingers to size of pan. Makes a big pizza —16" round, or use a big cookie sheet. Put dough in greased pan or cookie sheet.
Top it whatever you like. For traditional pizza I use Prego spaghetti sauce, but more often I use minced fresh garlic and olive oil as the sauce. Other toppings of course are pepperoni, sausage, etc. I like to sautee veggies in olive oil first rather than using raw ones. If you haven't done this, try it and I think you'll agree that the flavor is worth the small amount of extra work.
Bake for about 15 minutes, or until crust is browned and cheese is bubbly.
Stephanie's Carrot-Ginger Soup
Based on Silver Palate Good Times Cookbook— Steph eliminated the butter and added wild rice, feta cheese and lentils.
The bright orange color and bright flavor distinguish this carrot soup from the ordinary. It is excellent hot and cold.
6 tbs (3/4 stick) unsalted butter
1 large yellow onion, chopped
¼ c. finely chopped fresh ginger root
3 cloves of garlic, minced
7 cups of broth (I use Vegeta – a vegetarian boullion; 1 tsp for every c. of water)
1 c. dry white wine
1 and ½ pounds carrots, peeled and cut into ½-inch pieces (1 big carrot = 6 oz)
2 tbs fresh lemon juice
Pinch curry powder
Salt and freshly ground black pepper to taste
Snipped fresh chives or chopped fresh parsley (garnish)
Melt the butter in a large stock pot over medium heat. Add the onion, ginger, and garlic and sauté for 15 to 20 minutes
Add the broth, wine, and carrots. Heat to boiling. Reduce heat and simmer uncovered over medium heat until the carrots are very tender, about 45 minutes.
Puree the soup in a blender or food processor fitted with a steel blade. Season with lemon juice, curry powder, and salt and pepper to taste. Sprinkle with the chives or parsley. Serve the soup hot or chilled.
Top | |