Clean office: ready for sabbatical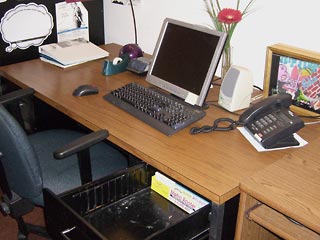 My last official act at school was to clear my office before beginning my sabbatical. The college plans to hire a replacement for the year that I'm gone, and this person gets to use my office as part of the deal. Fair enough.
I was told that I had to clear off my desk, empty one drawer, and have half a bookshelf available for the new person to use.
Most of the junk that was on my desk ended up in the recycle bin, although I brought home a cardboard box full of stuff that I couldn't throw out. As I carried it out to the parking lot I thought about people who get fired and have to clear out by the end of the day. My version is much more positive.
Before leaving I took all the mail from my mailbox, checked and deleted my last phone message, and shut down my computer. See ya in a year, C230.
Movie Recommendation:
Watched Lars and the Real Girl tonight—a funny, sweet, quirky movie that's better than most of the crap that comes out of Hollywood. Don't be put off by the film's central premise—Lars' girlfriend is a life-sized "love doll." It's not sleazy or creepy—really— you may even start to feel a bit of affection for Bianca yourself before the film ends.
The writing and acting are terrific. The characters are people you might become friends with if you actually met them. In fact, I wish I had a doctor as smart and thoughtful as the one in the film. The only element that bothered me is the idea that any town could have so many nice people and no nasty ones. But I'll forgive this thoroughly enjoyable film that touch of fantasy. The DVD extras on the making of Lars are also better than most, and worth your time. Two big thumbs up.
Top | |