Another first, Edgewater Park beach

With temperatures only in the low 60s, two sunbathers braved the cool lake breeze around lunchtime today. They were the first I've seen this year.
The pair was completely alone on the newly scraped sand, except for the two bulldozers still working along the back edge of the beach.
Complimentary colors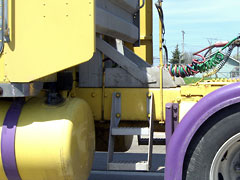 Not your everyday color scheme for a steel hauling flatbed. This independent trucker goes for complimentary colors, purple and yellow. There was no identification on the cab, so I couldn't figure out anything about the person and/or company.
Here's what Squidoo.com says about the colors:
Purple: A sense of mystic and royal qualities, purple is a color often well liked by very creative or eccentric types and is the favorite color of adolescent girls.
Yellow: Will advance from surrounding colors and instill optimism and energy as well as spark creative thoughts.
Whatever the specific meaning the truck's owner was going for, you have to admit that this semi will not get lost in the parking lot at the truck stop. And not an American flag decal to be seen anywhere, either.