Digging out
Today was sunny and clear, a good day for digging out of the 15-20" of snow that fell yesterday. We started the day with ham & cheese waffles, a delicious variation I might have invented. Or maybe I read about it somewhere, who knows? Anyway, you lay very thin slices of ham and swiss cheese on top of the batter before closing the waffle iron, resulting in crispy, savory versions of one of my favorite breakfast treats.
The Plain Dealer hadn't arrived by 9 a.m., so we decided that after breakfast we'd walk to Dave's and buy a New York Times along with a few staples for the week (orange juice, milk, coffee).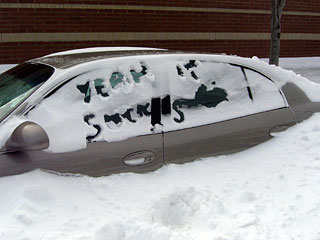 Like yesterday, quite a few people were walking in the streets. Bridge and Fulton had both been plowed, so the car traffic was up compared to yesterday.
As we walked we made sympathetic noises as we passed cars still buried in the snow, some even more thoroughly barricaded by the icy wall pushed to the side by the plow. The owner (?) of one car even responded to our sympathy with a message on the window.
Top | |