Look again
A famous quote by Russian critic Viktor Shklovsky says that the purpose of Art is "to make one feel things, to make the stone stony...The technique of art is to make objects "unfamiliar." This quote is commonly rephrased as "The goal of Art is to make the familiar, unfamiliar."
Writer Jerzy Kosinski puts it this way: "The principle of art is to pause, not bypass."
With this in mind I'm going to recommend that those of you who've enjoyed seeing pictures of Cleveland here on my site or elsewhere take a look at the images on Stuart Pearl's blog.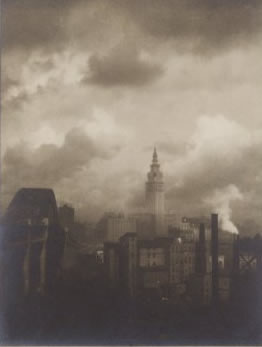 I've taken hundreds of pictures myself of downtown Cleveland and the industrial Flats. I've seen thousands taken by others, including Margaret Bourke-White's iconic images like the one at right. I love this photo: she captured downtown Cleveland's landmark tower when the city was an industrial powerhouse.
So I'm not easily impressed by Cleveland photos. So much great work has already been done that it's not easy to come up with a fresh look. I always look at Cleveland photos, but In Kosinski's terms I usually bypass them rather than pausing.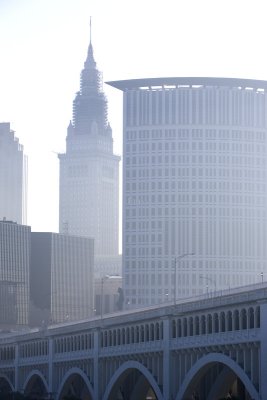 Not so with Stuart Pearl's work. With one or two exceptions I know exactly where he shot the 150 photos in his Cleveland Flats photo set. I've shot many of them myself.
But still, nearly every photo made me pause and appreciate that place again. It might be the delicious color that Pearl captures, or an atmosphere that transforms the scene, or just the powerful composition of shapes. Whatever the reason, these are not your average Cleveland pictures.
To me, Pearl's hazy image of the Terminal Tower captures the same feeling as Bourke-White did, and brings it into Cleveland's cleaner, more button-down present.
In my book, this is art.
Look again—and laugh
Since we've all had time to rest and recover from the campaign and election, I'm hoping that it's safe to return to that theme with a little humor. This video made me laugh even the second time I watched.

Add your comment by clicking below.
Top | |