DECEMBER 22, 2008
So, how was your day?
It was cold in Cleveland today: between 7 and 9 degrees with a 20 mph wind, meaning it felt really, really cold. Look back at the homepage and you'll see that today's picture has a white background, meaning the mean temperature for the day was less than 10 degrees. We never had a day that cold in all of last winter, or the one before.
So it was cold. Otherwise this was just one of those pre-Christmas, get things done kind of days.
First I put another gigabyte of RAM in my main computer—an Intel iMac—that I use for this website among other things. Now that it's maxed out at 3 Gb I'm hoping to have fewer delays when working in Dreamweaver, iPhoto, Photoshop and a web browser all at the same time.
Kind of amazing that this 2 Gb module from Crucial was only about $30. Installing it was a matter of taking out two screws, popping two little levers, pulling out the old chip and sliding the new one in. Then put the panel back on with its two screws, and plug in the power and USB cables. Elapsed time, maybe 10 minutes. Much better than the old days, both in price and time.
Shopping
Next stop, Christmas shopping with Joanne. That too turned out to be relatively painless. We drove to Steelyard Commons, went to Home Depot and got a few things for the big boys, then walked in the bitter wind to the Target at the far end of the strip. Got toys, clothes and some foodie gifts there, along with a Starbucks gift card. OK, mission accomplished, next stop: buy a Christmas tree.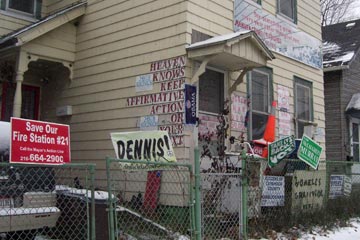 To fortify ourselves we drove up the hill to Lucky's for coffee and pastry. On the way back we drove down a couple of unfamiliar side streets, passing this house where someone makes his/her political views very clear.
Once upon a time we'd wait until Christmas Eve to buy our tree—I guess a carryover from my childhood when the tree would magically appear on Christmas morning.
This strategy has good points and bad. By waiting that long you find that most of the places selling trees are closed up and gone. On the other hand, if you find a place you get a tree very cheap, sometimes free. But then again it often looks like a free tree, if you know what I mean. The biggest problem is that your search can be very stressful. We had a couple of years when we thought we'd never find a tree, which in our family would have been a disaster.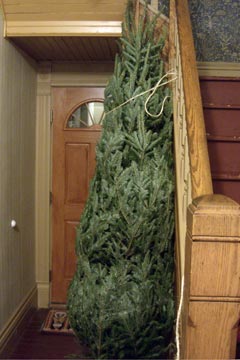 No more. Now we go out a few days earlier, like today, and usually get something pretty good for a reasonable price. Today's tree was marked $61, and Joanne got it for a firmly stated bid of $25.
Here it is in the side hallway, still in its plastic mesh wrapper, waiting to be taken inside tomorrow.
So all the shopping today, including the coffee break, took about four hours. Can't complain about that.
Top | |