New & improved
There are always tons of things I'd like to do to improve this site. Problem is I don't have that much time, and everything always takes longer than you'd expect. Today I decided to add a couple of new photo features using CSS techniques found on other sites. From MaxDesign.com.au I got a nice image gallery that I customized to run vertically rather than their horizontal version. It uses definition lists and the <dt> and <dd> tags to work its magic. See it in action in yesterday's article about worm farming on the right side of the page.
Below I'm using the Hoverbox technique from SonSpring.com to enlarge images when you mouse over them. The technique uses an unordered list, two instances of each image and the CSS property display to hide (display:none) or show (display:block) the larger version.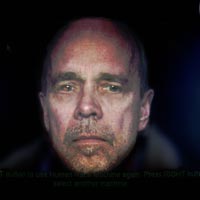 In this case it's the variations of my face generated by the Human Race Machine, explained in my April 4th entry.
When I sat inside the machine its camera captured the picture at left. After a few simple steps to calibrate the machine, I got see my face with the features of six different races overlaid on it.
Try to guess the race each photo represents. Your choices are: African-American, Indian, Asian, Middle Eastern, Hispanic, and White.
Mouseover images to enlarge:
Top | |