Design infomercials
I have to admit that the website's name seemed promising: ilovedesign.com. Its advertised "exclusive" video interviews with Chip Kidd, David Carson and other designers seemed worth signing up with my email address. It wasn't until I watched the second or third video that I realized that the site was primarily a promo for QuarkXPress, now fighting for its life with Adobe InDesign. In most of the videos the artists talk about how they use Quark to create their work, an irritating reminder of who produced them.
If you can get past the shameless self-promotion and you're interested in seeing and hearing how designers work you'll probably enjoy most of the videos.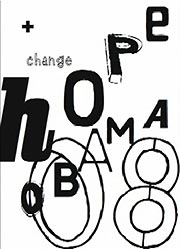 I was going to tell you to avoid Carson's long rambling Rules of Graphic Design video, but 28 minutes into it you see posters he designed for the Obama campaign. They are really different from the slick official Obama graphic style. Are they worth 28 minutes of Carson showing and talking about his work in a way only slightly more interesting than Aunt Ethel's vacation movies? Probably not. Here are a couple of the posters if you decide to skip the video.
So ilovedesign.com isn't a total waste of time, it's just very Quark-centric. Truth is, though, that if your main interest is hearing artists/designers talk about their work you'll find more and better films at HillmanCurtis.com. And no Quark commercials.

Add your comment by clicking below.
Top | |