Web 2.0, here we come?
First, if you have no clue as to what "Web 2.0" is about, take five minutes to watch this video. It's a quick overview of what's happening as the web evolves (and we along with it). My 8-word description of Web 2.0: participatory, social, highly interactive, user-generated content...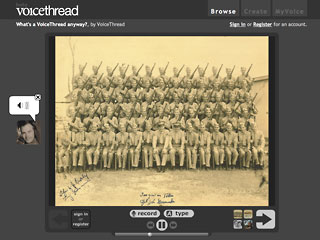 Then take a look at VoiceThread, a website recommended by Bill Fogarty, a media specialist at Tri-C where I work. He suggested that it would be a good tool for students taking online classes to collaborate and "discuss" visual objects—photos, sketches, etc.—in a more lively way than a standard discussion board.
I agree. It looks and sounds great, but I just haven't figured out yet how to use it. In class I could take a screenshot of a particularly interesting website and record my comments, then have students reply.
But I'm also thinking about somehow incorporating it into this site. Should I post photos that might appear here and ask you all to comment via VoiceThread? What would you like to see and discuss or comment on? Give me a suggestion and we'll try it out.
Or maybe you can post images of your own and we'll comment on them. Click "Comments" below to post your suggestions. Thanks!
Weekend plans
Oh, another very Web 2.0 application is Google Maps, a way to customize maps provided by Google by adding your own markers and other information. You can link to them or embed them on your own website. Previous articles about this are here and here.
So I got an email from a German exchange student now in Cleveland who wanted ideas on where to go this weekend to enjoy the lake. As I wrote suggestions in an email I thought how useful it would be to see them on a map. About ten minutes later I had this Google Map of Lake Erie parks and beaches near Cleveland.
TOP | | |
ARCHIVE
SEPTEMBER
AUGUST
JULY
JUNE
MAY
APRIL
http://www.veryshortlist.com/images/days/255_chart.gif