First time this year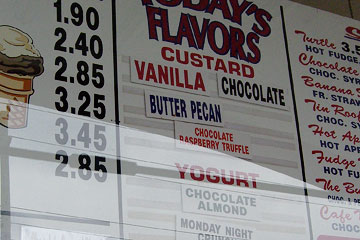 It was sunny, the temperature was 64 degrees, and East Coast Custard was open for the season! Since I pass ECC every day driving to and from school, I've learned through experience that if I don't restrict my visits I quickly put on pounds.
I don't pick up the monthly schedule of special flavors anymore—too tempting. Instead, when I feel the urge to indulge I drive past the outdoor menu board to see if one of my favorite flavors is listed. If yes, I stop; if not, I drive back onto Pearl Road and head home.
Today I saw one of my faves on the board: Monday NIght Crunch, a mixture of vanilla yogurt, caramel, nuts and crunchy stuff. But instead of ordering it I thought Chocolate Raspberry Truffle was worth a try: chocolate custard, raspberry and chocolate chips. Bad choice. The raspberry was the super-sweet stuff that they put on a sundae, not real raspberries, and the chocolate chips were few and far between. I won't be stopping for that one next time.
Just noticed that last year I checked on the 8th but didn't actually find a flavor I liked until the 22nd.
Top | |