DECEMBER 19, 2008
In a strange land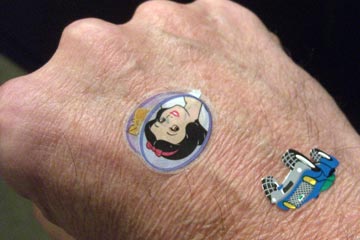 We don't spend a lot of time in the suburbs, especially when it comes to dining out. Our preference is to stay in the neighborhood, like Wednesday's visit to Momocho.
Today, though we met my son & the grandkids at a Hibachi Steak House in a generic strip mall in one of the western suburbs.
The food was decent, the chef's tableside chopping, flipping and flaming shtick was only moderately amusing, but the company was excellent. Arianna, who is three, initiated me into her secret society by pasting stickers on my hand rather than eating her food.
I know it's mostly the result of having three cute, charming children with us, but I was impressed with how friendly the other restaurant patrons were. For a place I would ordinarily avoid like the plague I felt surprsingly at home.
Top | |