DECEMBER 14, 2008
Watching seeds sprout
It's almost as interesting as watching paint dry, but today was that kind of a day. Did the usual plant-watering, carpet-vacuuming, mom-visiting things that I do on most Sundays. Helped a friend install a stove. Started watching an old episodes of West Wing but quit after one. Like I said, it was just that kind of a day.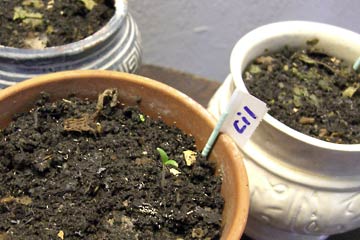 The good news is that the seeds I planted in a half-dozen small pots are finally starting to show signs of life, at least here and there.
My idea is to have pots filled with growing cilantro, parsley and chives to give as Christmas gifts to friends. I planted the seeds about a week ago and hope that in the remaining 10 days they'll grow into actual plants. We'll see.
Top | |