In the neighborhood
Walking to the West Side Market I saw a neatly printed notice taped to a utility box at the corner of W. 29th and Bridge Ave. Encased in a plastic sheet protector, it warned people about a recent robbery in the area.
I wish things like this didn't happen, but unfortunately they are part of urban life. I'm happy that someone in the neighborhood is trying to do something, but the tone of the notice puzzles me. It's an odd combination of belligerence:

"We can not allow this scum to ruin our neighborhood. Let's fight back."

and McGruff the Crime Dog:

"Don't walk around with your hands full. Have your cell phones available."
Cafe society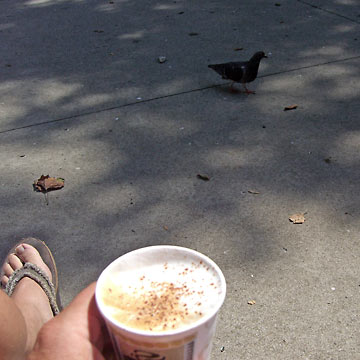 After enjoying the lively outdoor cafe life in various European cities in recent weeks, I found myself nearly alone in Market Square Park enjoying a cappuccino from City Roast at the Market.
C'mon, Clevelanders, get out and enjoy your city!
Top | |