Package pornography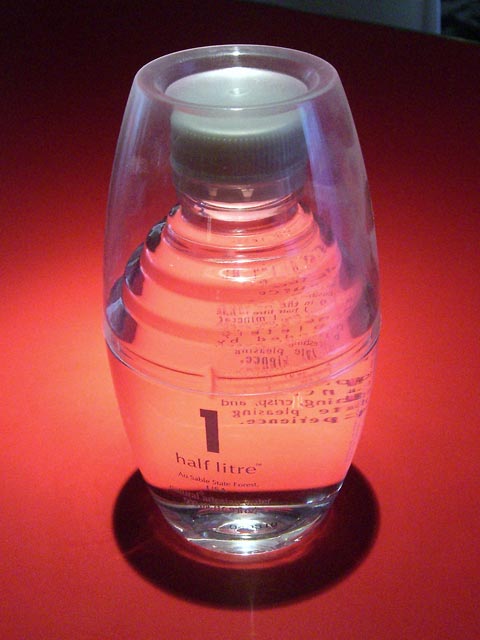 "...clean, crisp taste coupled with innovative and uber-chic design"
This bottle of water I saw in the canteen at Amsterdam's oh-so-cool Citizen M hotel is gorgeous, I'll admit. The company's website describes it as "the most functional, sophisticated and visually appealing bottle on the market." But with the huge problem of wasted resources and environmental harm created by plastic water bottles, why make a bottle that uses maybe 1/3rd more plastic than a standard one?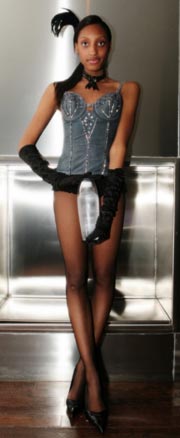 I'd call it packaging pornography.
Definitions of pornography typically include "intended to produce feelings of lust in the viewer." This bottle fits that description—it's really sexy. You want to have it. You really want to have it. The website's photo gallery makes this clearer, in case you missed it (see photo at right).
OK, so why make a big deal of it? As a designer I like things to look good, so why shouldn't I admire this company for creating such a stunning product?
Well, for starters take a look at what AllAboutWater.org says:
It is hard to argue the fact that waste management has become a large problem in the world, with landfills growing to enormous sizes and recycling rates remaining dismally low. The number of plastic bottles produced by the bottled water industry and subsequently discarded by consumers has only exacerbated this problem.

According to a 2001 report of the World Wide Fund for Nature (WWF), roughly 1.5 million tons of plastic are expended in the bottling of 89 billion liters of water each year.

Besides the sheer number of plastic bottles produced each year, the energy required to manufacture and transport these bottles to market severely drains limited fossil fuels. Bottled water companies, due to their unregulated use of valuable resources and their production of billions of plastic bottles have presented a significant strain on the environment.
Now, let's design a bottle that uses even more plastic to make it "uber-chic." But that's not the only problem.
The bottle is filled with spring water that's described in a press release as:
...bottled directly from the pristine Au Sable State Forest in the heart of northern, lower Michigan.

The Au Sable River, is protected and surrounded by thousands of acres deep in the Au Sable State Forest. 1 litre™ USA is naturally filtered as it percolates through the glacial sand and rock in a confined aquifer...
KInd of ironic, isn't it, to read this Fall 2007 report from the Michigan Environmental Council:
Volunteers galore hit the water the weekend after Labor Day for the Anglers of the Au Sable's 13th annual River Cleanup, scouring more than 90 miles of stream...Five cubic yards of debris were collected, much of it non-returnable water and juice bottles...
The pristine water is being threatened by... water itself in the form of plastic water bottles. And some designer(s) did a great job of making us lust after this bottle of water. Seems like pornography to me.
What do you think? Click "Add comment" below.
More design
Top | |