Is it a blizzard yet?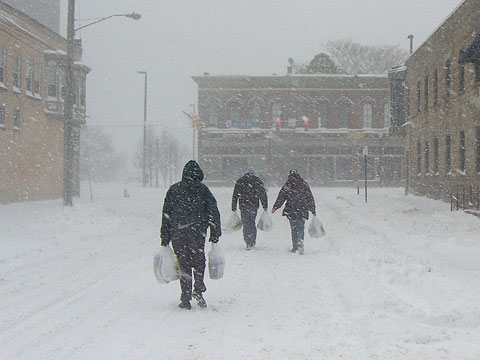 It snowed all day, bringing most activity in Cleveland to a halt. This is when you appreciate living in a city neighborhood.
You can walk to the store in less time than it would take to dig the car out of the snow and clear the driveway. These people leaving Dave's Supermarket with their groceries may have made the same decision I did.
At one in the afternoon the streets belonged to pedestrians, for the most part. A few four-wheel drive SUVs were out and about, but most people with regular cars wisely stayed home.
Blizzard or not?
This morning at breakfast, Joanne and I debated whether it was a blizzard or not. I was holding out for the idea that it would soon become a blizzard, but I was wrong.
The definition of blizzard:
Snow with winds in excess of 35 mph and visibilities of 1/4 mile or less, for an extended period of time (eg. > 3 hours).
A check of today's hourly weather observations at Weather Underground shows winds throughout the day in the 20-25 mph range with visibility varying but never less than a half mile. Close but no cigar.
Still, it was fun to watch out the back window and see the handlebars of the toy bike—a remnant from a visit from one of the grandkids— gradually disappear in a snowdrift. As I write this at 10 p.m., the snow seems to have stopped.
Top | |