Homemade breakfast
We got in last night, riding the Rapid back from the airport at about 8:30 pm, the last of many public transportation trips during the past 3 weeks. We dragged our small suitcases home, noticing every one of the many uneven sidewalk sections on the way—makes you realize how hard it would be for a person in a wheelchair to navigate this ten-block journey.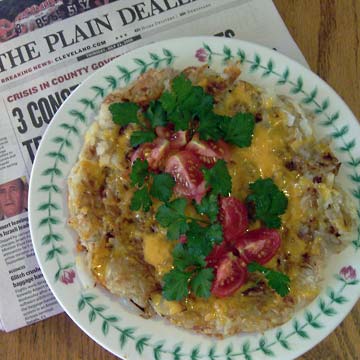 This morning I was happy to find enough in the pantry and fridge to make a good breakfast: hashbrown potatoes with onions and cheddar cheese, topped with parsley and the first two ripe cherry tomatoes from the garden.
I sat down with a cup of coffee and the Plain Dealer, a morning ritual I've missed for the past couple of weeks.
Things I didn't miss: driving a car, watching television, listening to the radio. Also, loud music, lots of cars, Hummers, car alarms, and fast-food joints...just a few attributes of life in an American city.
There are lots of things I've been thinking about—hard to know where to start when describing our recent trip to Amsterdam, several cities in Germany, a couple small towns in Switzerland, and points between. Tomorrow I'll start by picking at least one photo to represent each day and adding commentary, starting with July 12, the day I left Cleveland.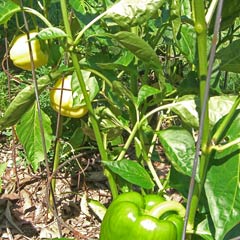 Today I have to show off the peppers that have flourished in the garden. Two of them—one yellow, one green—became salad for dinner tonight. Before long we'll have plenty more, and I can let the yellow ones ripen to orange or red.
The eggplants are big enough to use already, but I plan to let them grow larger, giving more raw material for baba ganoosh.
Top | |