Near West Side morning
It was damp and gray this morning, but I took an umbrella and walked to Nick's Restaurant on Lorain at West 41st for breakfast. For $3.50 I got three eggs, 3 bacon, home fries, toast, and coffee. The price is higher than the old $1.99 special, but still darn good.
With my first cup of coffee came a bit of NWS drama: a drunk had to be asked to leave when he started unpacking his clothes onto the table. I was impressed that the restaurant manager handled it all decently and politely, even offering the guy a free cup of coffee to go. The whole process took about five minutes from start to finish, but ended happily for everyone except the drunk, who left without his coffee.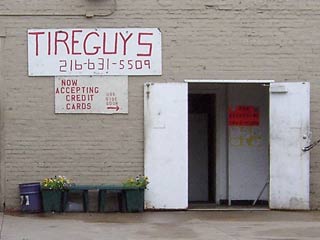 Walking home I saw that the Tire Guys on Lorain are really moving up in the world, now accepting credit cards and all. The flowers are a nice attempt at beauty in front of a decidedly unglamorous entrance.
Top | |

Kristine Jackson at University Circle
Sunshine, free music, a friendly crowd...hard to beat the combination Joe and I enjoyed yesteday in University Circle. Kristine Jackson—who, like the Prayer Warriors is another of my favorite local musicians—played as part of the summer WOW (Wade Oval Wednesdays) concert series.
I first heard her in a smoky Parkview NIte Club when she played trumpet with the Mary Bridget Davies Band. Since then she's gone out on her own and in my opinion left Mary Bridget in the dust. Jackson not only has a great blues voice, but her guitar playing is darn good too.
Probably due the to outdoor location and family-friendly crowd, KJ sang mostly country-influences songs rather than blues, which was a little disappointing. Still, it was a good way to spend an hour or so on a Wednesday night in Cleveland.
Top | |