Dark enough for ya?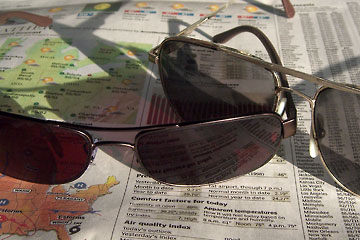 Maybe I shouldn't have mentioned that I'd like to see a darker tint than the sample sunglasses I tried on at Lenscrafters today. My new glasses, on the left in front of my old ones, are much darker.
Besides that, the requested brown lenses turned out more red than brown.
When I tried them on I'd already waited close to three hours, since the first lenses had a flaw in them and had to be remade. So even though the dark red tint was troublesome I decided to take this pair to try out over the weekend. They are so dark that when I'm driving with the glasses on I can barely read my car's digital odometer, never a problem with the old ones.
I have a strong feeling that next week I'll find out how good the Lenscrafters' 30-day "unconditional" guarantee is. At this point I'm not a happy camper. Fortunately the regular (non-tinted) glasses I got at the same time seem to be fine.
Top | |