Last thoughts on the election...
Last house
Yesterday I described my day as an Obama canvasser. Today I went back to get pictures of a couple of significant places on my route. I tried to get a better picture of the Duck Island McCain/Palin stronghold that freaked me out, but today all the signs had disappeared except for a small one tacked to a tree.
I know that much of my reaction was just my own wussiness (I don't like confrontation), but the big hand-painted plywood signs were kind of threatening. Even today I was apprehensive walking down West 19th, and more relieved than disappointed to find that the signs had been removed.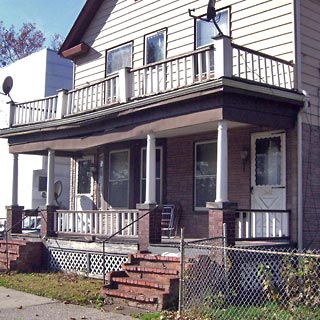 I did get this picture of the last house on I visited. It's typical of many in the south of Lorain neighborhoods I visited on my first and last rounds of canvassing: modest, a bit run-down, nothing fancy. I knocked on the door at the right but ended up talking with two women who came to the door on the left.
If you listen to our conversation you'll notice how their responses went from suspicion to good will, as did many others.
You'll hear another common response to my knocking on the door here:
Look again
As you might imagine, a number of websites have changed to reflect the results of the election:
BarackObama.com says Thank You, with multiple articles and videos. It's also spawned the transition site Change.gov.
PalinAsPresident has become BarackAsPresident, but be sure to click "View original site" and mouse around there for more fun surprises.
Design(ers) for Obama has added new posters, while 30reasons has resisted the temptation.
I also looked back at what I've posted here, and found that on Jan. 1, 2008 we picked Obama to win, but it wasn't until near the end of February that I somewhat reluctantly agreed. By October I was more enthused, but still only cautiously optimistic on November 2nd.

Add your comment by clicking below.
Top | |