Labor Day
Officially the last day of summer, today was a gorgeous, sunny and mid-80s. Joanne's brother and sister-in-law were visiting, so we went to one of our favorite places, the Cuyahoga Valley National Park. First we ate lunch at Fisher's Cafe in the small town of Peninsula. If you ever visit, try the deep-fried eggplant strips—they are great.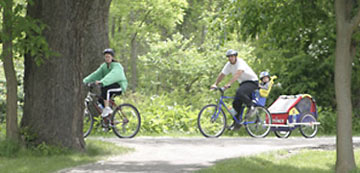 After lunch we walked along the towpath for a couple of miles. People on bikes, like us enjoying the great weather, were on the trail in force. I had to grab this Park Service photo to give you an idea of what it looked like since I didn't take any myself.
We drove back to Cleveland via back roads, which took us past a farmstand with a big "sweet corn" sign. Since it was surrounded by corn fields and they were unloading a pickup truck as we drove up, it looked promising We wisely stopped and bought some.
Back home we had a great meal of locally-produced food: grass-fed pork chops and green beans that I bought Saturday at the North Union farmer's market, sweet corn from our afternoon drive, yellow watermelon from CityFresh and a few yellow beets that we'd gotten in Chicago last weekend. When I saw everyone gnawing on the pork bones I figured you couldn't ask for better evidence that they enjoyed it.
All in all, a good way to spend the last official day of summer.

How did you spend your holiday? Add your comment by clicking below.
Top | |