Is there a God?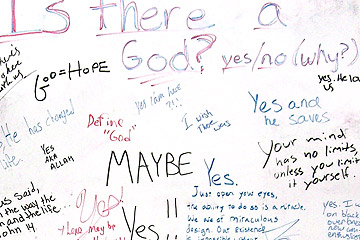 A couple of times a year some group on campus puts up a tall 3-sided whiteboard in the large atrium area at the center of the campus. On the top of each panel is written a question, and markers are provided for students to write their answers.
The responses tend to be pretty God-centric, and I assume the group that does it is a religious one looking to "spread the Word of the Lord." I have to give them credit, though, for not aggressively pushing their beliefs. I stood and read the comments for a couple of minutes without anyone approaching me to strike up a casual conversation about some random subject like, say, God.
The quotes from the Bible ("The Lord is a lamp unto my feet...") and many pro-God comments strike me as smug ("I believe because I know he lives within me..."). Maybe it's too many years of Catholic education, but I have a hard time with this sort of thing.
Top | |

Commandshift3.com
It's like "Hot or Not" for websites. Exactly!
I signed this site up to do battle, now I'm anxiously waiting for results.
Top | |