More video?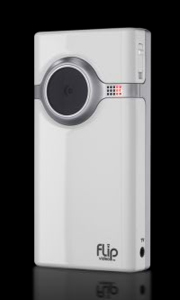 I saw an article about the tiny Flip Mino video camera and it made me think:
I want one
If I had one I could use it instead of my Casio Z850 camera that I take everywhere. The Mino is smaller and does most of what I need except for shooting high-quality still images
Maybe I should use mostly video on this site rather than still images and/or audio.
I'm feeling a guilty about #1: I sure don't need yet another toy. I'd like to buy less, not more. On the other hand...#3 is interesting to think about. Now I try to use photos and sometimes sound to try to give you a sense of what I saw and heard. Photos are easy, but obviously limited to only visual information. Sound is cumbersome.
To record sound I change to the audio setting on my camera and push the shutter. The sound is captured as a Windows Audio (.wav) file. Later I copy the sound to my computer, import it into a sound-editing program called SoundStudio, trim it to the length I want—usually 10-15 seconds—tweak it a bit if needed to improve the quality, and save it as a new .wav file.
To play the sound on the web I use a small button graphic created in Adobe Flash that contains a bit of code that starts the sound when you click the graphic. Each sound is saved as a separate Flash "movie" or .swf file, which I then embed in the webpage using Dreamweaver.
If I switch to video I'll capture image and sound at the same time, edit them as a single video, then upload it to YouTube, Vimeo, or a similar video-sharing website. I'll take that video and embed it in my own webpage like the one a few days ago from Spaces Gallery.
If you have any thoughts about this idea, pro or con, please click "comments" below and add them.
Top | |