Google Maps: get out of your car!
I switched from MapQuest to Google Maps long ago for reasons I've long forgotten. Most likely it's because of the extra features Google keeps adding. If you haven't yet explored Google's Street View, which shows you navigable ground-level photos of streets, neighborhoods and individual buildings, give it a try. It's kind of amazing to see your car parked in your driveway on a sunny autumn day and realize that at some point a Google camera van drove down your street—and lots and lots of others. Besides being fun, this is very helpful when looking for someplace you've never been: you see exactly what the street, house or building looks like.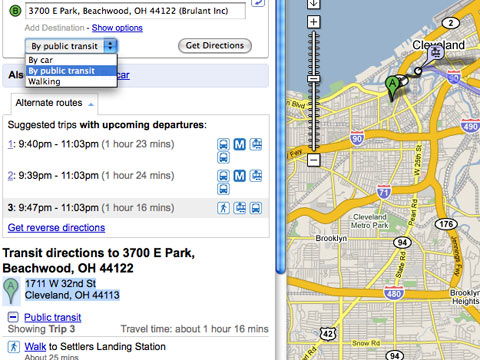 This month (July 2008), Google Maps added the option of getting "Walking" directions, joining an equally valuable "By public transit," and of course "By car".
Both new choices give detailed estimated travel times step by step. The transit option tries to offer you at least three possible routes, while the walking directions use specific pedestrian paths where possible.
In my sample shown here, from my house to Brulant, Inc. in Beachwood, public transit route #3 included a 25-minute walk but was the simplest, with only one transfer from rail to bus, and was the shortest of all timewise.
Good design
Although it doesn't look spiffy, this addition to Google Maps is an outstanding example of good design. It's also design that serves the public good. By making it easy to see alternative ways to get places other than by car, Google may have done more to encourage walking and/or use of public transit than any number of ads or public-service announcements. Compare this positive use of design to the negative example of a highly-designed but wasteful plastic bottle.
Top | |