"This book will change your life"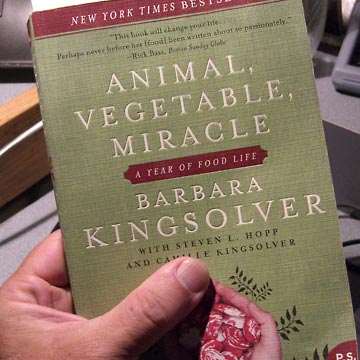 If those words immediately make you suspicious, I don't blame you. They have the same effect on me.
But...it did change my life.
Since reading this Father's Day gift from my daughter I'm thinking about, buying, cooking and eating food differently. Barbara Kingsolver's true story of how her family of four went a whole year eating only locally grown food gave me information and inspiration to try to eat better.
One persuasive point Kingsolver made clear early on: most supermarket food uses a lot of oil to grow (fertilizers, processing, machinery) and transport:
"The average food item on a U.S. grocery shelf has traveled farther than most families go on their annual vacations." (pg. 4)

"A quick way to improve the food-related food economy would be to buy a quart of motor oil and drink it. More palatable options are available. If every U.S. citizen ate just one meal a week (any meal) composed of locally and organically raised meats and produce, we would reduce our country's oil consumption by over 1.1 million barrels of oil every week. That's not gallons, but barrels." (pg. 5)
Throughout the book she or her husband and daughter, who each write occasional sidebars, explain how our food is grown, processed, transported and marketed, and why most of this is bad for us as individuals and as a society. The book's strongest point its sense of humor that makes this sometimes difficult medicine go down very easily. I was sorry when I finished it.
The other thing that may have been even more persuasive: the Kingsolver family's diet sounds really tasty. Each chapter, proceeding chronologically through their food year, ends with recipes for meals based on what's available that month. There are lots of things I want to try, not the least of which is Spinach Lasagna with homemade ricotta and mozzarella cheese. Just a few minutes ago I was reading recipes for making cheese on the New England Cheesemaking Supply website, and I'm all set to order my 30 MInute Mozzarella & Ricotta Kit.
To start with, I love fresh mozzarella cheese. Then, this description from the book sold me on trying it myself:
"Most recipes call for both a bacterial culture and rennet (a natural enzyme), which together cause the milk to set up into a very firm curd in just minutes, rather than overnight. For mozzarella, this curd is kneaded like dough, heated until almost untouchably hot, then stretched like taffy, which is a lot of fun. The whole process—from cold milk to a beautiful braided, impress-your-guests mozzarella on the plate—takes less than an hour."
There are a lot of things like that. It's why I got vegetables at CityFresh last week and will again tomorrow, why I walked to the Farmers' Market on Saturday, and why I'll be ordering those cheese-making supplies real soon.
If you care about culture, society, the environment, animals, people, and/or if you just love to eat, give Animal, Vegetable, Miracle
a try. Then let me know if it changes your life.
Top | |