Antioch College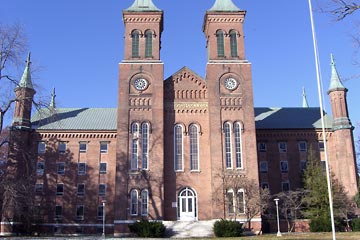 If you've ever been to Yellow Springs, Ohio you've probably seen the elegant adminstration building of Antioch College. It embodies the feeling that education is a noble pursuit, an almost spiritual quest for knowledge.
I remember one long night when I was a student at the University of Dayton. On a dare, a friend and I decided to walk the twenty miles from UD to Antioch. We spent hour after hour tramping along dark country roads where only barking dogs acknowledged our efforts. Near dawn we got to the Antioch campus, and the looming towers of this building were an eerie but welcome site.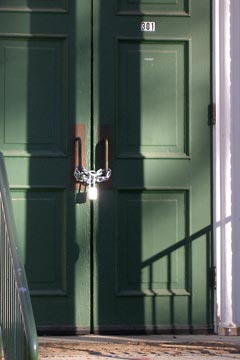 On this sunny November day the towers are still there, but the college isn't. What a tragedy.
We spent last night at the house of friends in Yellow Springs and walked into town for breakfast. We cut through the Antioch campus for a depressing walk past windows that opened into empty rooms and doors that were locked, apparently for good.
There were efforts by faculty and alumni to take over and reopen the college after the trustees closed it in July 2008, but as of November 2008 nothing has changed.
The story of how and why Antioch closed, and what the future may hold, varies depending on who's telling it. Maybe it was political correctness or perhaps it's a clampdown on dissent.
I think it's the result of overly aggressive expansion in the 1970s that created branch campuses in New England and several cities on the West Coast. The "home" campus eventually withered on the vine. What a waste.
---
More on Antioch at Wikipedia. Vastly different views of current activities related to Antioch from the Alumni Association and the college PR office.

Add your comment by clicking below.
Top | |