DECEMBER 8, 2008
The Luxury of Time
You know what I'm talking about. You constantly feel the pressure to do way more than you have time for. There aren't enough hours in the day or days in the week. I know it's true for my wife, both my kids, and most of my friends. If I weren't on sabbatical this year it would be true for me too.
How did we get here? What have we gained, what have we lost? Why has time become a luxury?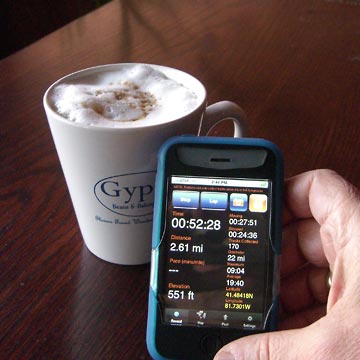 I started thinking about this as I walked to the post office to mail a package. I could have driven, but I wanted to enjoy the crisp winter air and get some exercise, and the post office is only a mile away. As I walked I plotted my return trip via Gypsy Beans on West 65th and Lorain where a decaf cappuchino would be my reward for saving a bit of gas.
I eventually got back home via a circuitous route nearly two hours later. I'd walked 4.75 miles. I now carried coffee, olive oil and fresh Parmesan cheese for dinner, and a sheet of colorful Latin Jazz postage stamps. On the way I'd seen Jesus on a garage door, a lion and an eagle sharing a stony perch, a declaration of love on a bus shelter and a Big Egg on its way back home. You can see those below, but here's the real point:
All this takes time. I'm in the fortunate position of having time to spend a chunk of my day doing routine chores that would take one quarter the time if I had driven to the post office and Dave's Supermarket. So in a way this is a luxury, but maybe it's one we can all afford more frequently.
The miles I walked may not be as aerobic as a trip to the gym, but came without any membership fee, and I didn't have to drive somewhere to get my exercise. So if you make time to go to the Y or exercise club—as I sometimes do myself—maybe you can substitute a walk to the park or the store or the office once or twice a week.
Now walking to the store may not sound like a luxury, but if you vary your route it may become an adventure. I walked down W. 68th Street just to see where it led (and it led to Jesus). I took the round about way home so that I'd be able to stop at Gypsy Beans, and passing the Save-A-Lot store reminded me that I needed a few supper fixin's from Dave's, which became the final leg of my trip.
OK, I guess I'm rambling here too, so let me bring this journey to a close: try to give yourself time, time to enjoy simple things with an open mind.
It's an affordable luxury, and you deserve it.
Jesus in the alley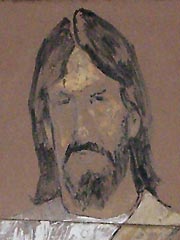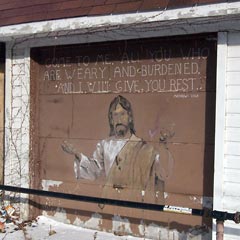 He kind of looks like a biker, doesn't he?
Eagle & lion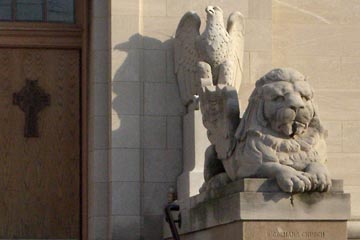 These stern looking critters and two comrades on the opposite side, guard St. Colman's Church on West 65th St.
PDA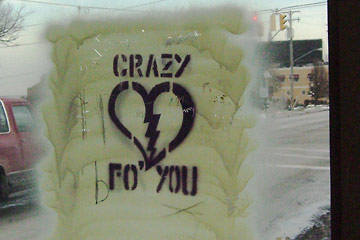 A pretty cool declaration of affection on a bus shelter at West 45th and Detroit.
Back at last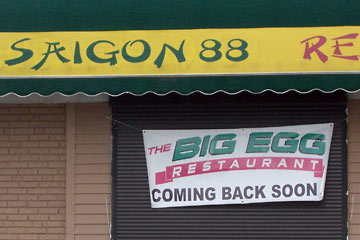 After short runs as Chinese/Vietnamese/Thai restaurants, it looks like the joint at West 52nd and Detroit will be reincarnated as the legendary Big Egg.
True Clevelanders fondly remember the 24-hour greasy spoon with egg-shaped menus, although not for the quality of the food. When you needed a late-night urban dining experience, the Big Egg delivered.
Latin Jazz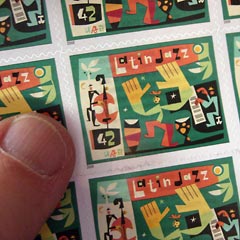 Maybe I'm a Scrooge, but I just couldn't bring myself to buy holiday-themed stamps at the post office. Not Christmas (religious or secular), not Kwanzaa, not Hanukkah, not Eid.
When I asked if they had any non-holiday commemorative stamps the worker said "Only Latin Jazz." Boy, what a pleasant surprise!
Top | |