Signs & fines
It seemed easy enough. We drove along Cicero looking for the Blue Line station so we could put Danny on a train to O'Hare. There! A big driveway on the right, obviously a turnaround because there were CTA buses lined up alongside a platform. I pulled well in front of the first bus to make sure I didn't block his way. Danny jumped out, I gave him a hug and got back the car. Before I could pull away a guy strode up to my window waving a thick pad, saying "Do you want to drive away and pay $200 or stay and pay $100?"
He (apparently a transit cop not in uniform) was going to ticket me for ignoring the sign that said "No cars permitted." We debated the necessity of this for quite a while. Finally, I told him "Do what you need to do," and went to take a picture of the sign in case I decided to protest the ticket.
Here's the photo, you be the judge: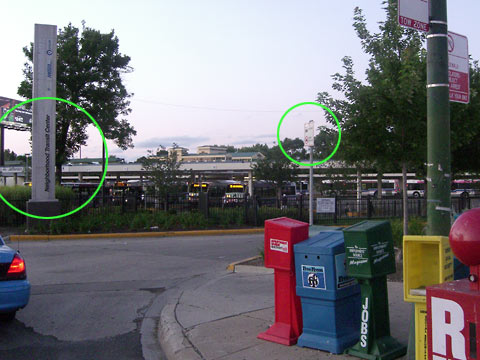 Driving in the curb lane, I had seen the tall "Neighborhood Transit Center" sign on the left.
On the right, high on a pole and angled away from my viewpoint is a small "No autos" sign. Silly me. How could I have missed it?
Long story short: As I put my camera away and walked back to the car, the transit cop(?) met me again. We discussed the sad state of signage at this entrance. He asked me how many more times I planned to do this (none), then walked away, unused pad in hand.
—> Other Chicago 2008 pics & stories: Reading Matter(s); Indiana Dunes; Men Working; Logan Square

Was he playing me all along? Did the digital camera save my butt? Add a comment and/or read others by clicking below.
Top | |