Sign of Spring
Today started out cool, got windy and cold with a few snow flurries around mid-afternoon, then cleared up by 6 so that the sun was shining. This is fairly typical Cleveland springtime, although these changes sometimes take place over several days rather than all in one.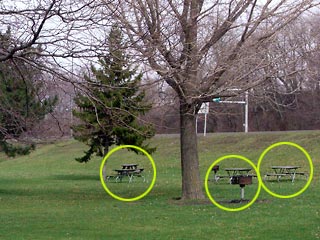 I went to Edgewater Park for a walk in the afternoon, the first time I've gotten any exercise in a week or more. As I walked around the path I noticed that—like crocuses and daffodils—another sign of spring had sprouted on the grass: picnic tables. Before long the smells of barbecued ribs and chicken will float in the air. There are times when it smells so good I'm tempted to walk over and ask for a sample.
Speaking of daffodils, I took a bunch with me today when I visited my mom. We went to the cemetery and put them in front of Dad's grave. Today would have been his 95th birthday.
Worm update
After a brief attempt at escape, my 2,000 red wigglers seem settled into their lovely home in my basement. When I put in more food today I didn't find any evidence of more worms trying to make a break for freedom. This afternoon I ran into someone who'd been at the same workshop as I had, and she had a similar story. Apparently the first day in their new home freaks out the worms, and the bravest ones try to get away. By the next day everything is copacetic.
Top | |