In Amish country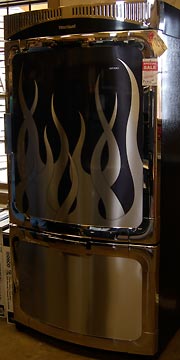 We met our friends John & Jean in Kidron, Ohio—the heart of the largest Amish community in the world—at Lehman's Hardware. The store is huge, and filled with the sorts of things that you don't generally find, like 30 gallon copper kettles and more accessories for baking pies than you ever thought possible.
Lehman's earned their reputation by catering to the needs of the Amish and Mennonites in the area who often don't use electricity and do much of their work by hand. Now they sell worldwide via their website, and the store has become a huge tourist attraction with its own cafe.
If you're looking for hand tools, kitchenware, or a wood-burning stove, Lehman's is the place to go, but I was pretty surprising to see this huge refrigerator that looked like it belonged in a Nascar garage. It may be gas-powered (some are), but I don't think it will find an Amish buyer even at its sale price of $3,995.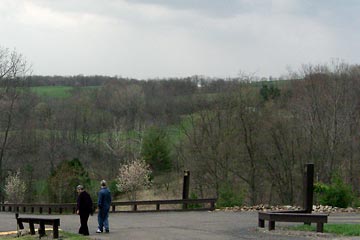 The countryside in this part of Ohio—Holmes County—is mostly farms and rolling hills although there are suburban-type housing developments popping up with alarming frequency.
Still, between the Wal-Marts and the shopping malls you find curving roads that wind from town to town, some no more than an intersection with a name on the map.
Top | |