Good news
Thursday's email contained great news: my sabbatical—I mean Personal Improvement Leave—proposal was approved, meaning next year I'll be visiting students and faculty at colleges around the country talking with faculty and students about how to best teach Interactive Design.
As I look forward to a year of working on this (at half pay) I have to thank my friends Wally and Ulrike for encouraging me to go with idea #1 rather than idea #2. Either would have been a good way to spend a year, but this one has a fun element to it: travel. It will be an opportunity to reconnect with friends in Indianapolis, Portland, and other places.
Next week's AIGA Design Education conference in Boston, Massaging Media 2, will be a good kick-off for the sabbatical. On Saturday morning I'm moderating a panel called Teaching Design, Teaching Technology: Time to Rethink Our Approach. The response to this should give me a sense of what the current situation is, and should generate more contacts/places to visit. Actually, the problem may be keeping the list manageable, since nearly every school I've contacted so far has responded positively to my request to visit. But that would be a good problem to have.
Top | |

First of the year

This afternoon around 4 pm a big ore carrier was sailing northwest toward Michigan and Minnesota where it will load up with taconite, raw material for the steel mill. Although the lake has quite a bit of ice on it, in most places it looks to be only a few inches thick.
I took this picture standing on the fishing pier at Edgewater Park. A family from southern Ohio, visiting a relative who'd had an operation at Cleveland Clinic, were snapping pictures of each other while the kids complained about how cold it was. I talked with them for a while and left the park thinking how easy it is to be sociable. I should do that more often.
Walking down to the park I saw the first kite-flyers of the year, too. These things are surer signs of Spring than the date on the calendar.
Top | |

Ballsy truck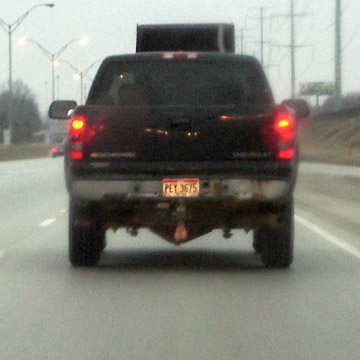 Is this what you do if you can't afford a Hummer but want to make the same statement? Seen Thursday on I-480 Eastbound.
Subtle it ain't (but that can be said for a Hummer too).
Top | |