Football in the air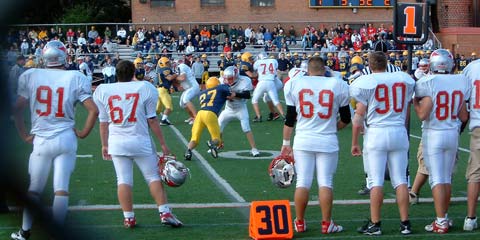 As much as cool temperatures and leaves turning colors, football is part of the fall season.
Walking home from the West Side Market today I stopped and peered through the chain link fence to watch St.Ignatius JVs play Mentor.
The varsity teams played yesterday in front of 10,000 fans, with Mentor knocking off the always-powerful Ignatius Wildcats. Saturday morning JV games are a whole different thing.

Today the JVs attracted about a hundred to the stands, plus me and a couple of other guys who watched from the street. As you can see, we had a better view than many in the stands, just nowhere to sit. Well, make that I had nowhere to sit. The other fella obviously had planned ahead and was there for the duration. He got some politics with his football, too.
I watched a couple of series of downs and continued home with my fruits, vegetables and bagels. The sounds of the game followed me all the way down the block.
While I was doing my morning errands, my grandson Xavier was on the field for the North Royalton Bears, his grade school team.

I called my son to see how he'd done. An 80-yard touchdown run this week to add to his touchdown last week!
Maybe he'll eventually get that high school varsity letter that I always wanted.
My own high school football career ended after a three days of practice when the starting guard literally ran right over me. Several times. I think this was the coach's way of encouraging me to pursue a different extra-curricular activity.
Jim Poje was his name. He flattened me. I tried out for the track team.
TOP | | |