So how was your day today?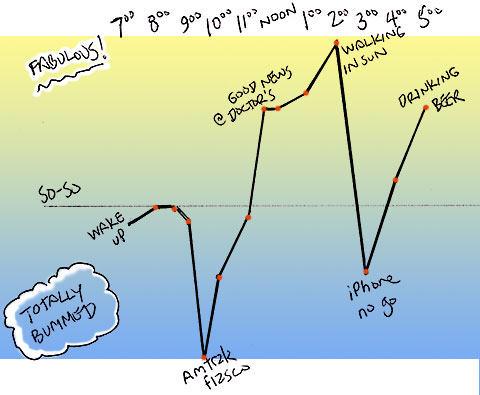 Mine went something like this:
7:12 am - wake up thinking about doctor's appointment later in the day. Worry about outcome.
8:00 - breakfast.
8:30 - go to Amtrak station to buy rail pass.
8:45 - Amtrak employee acts totally confused.
9:15 - she tells me trains are completely booked until October 21st.
9:30 - realization sinks in that I'll have to competely and utterly rework my entire trip due to start on Sunday, delaying it three weeks or more. I'm seriously bummed.
10:00 - arrive at doctor's office.
11:00 - he tells me that the various things I've been noticing and worrying about are relatively minor, no cause for alarm, but my ears are packed with wax.
11:30 - unbelievable amount of gunk cleaned out of ears - I can hear again.
12:00 - very good cappuchino and scone at Lucky's. Eavesdrop on artist and web designer planning website. Designer is unable to answer basic technical questions; I resist urge to butt in.
1:00 - back home, read a few good emails from people I hope to visit, if Amtrak cooperates. Check Amtrak website and phone reservation system, seem to be seats available this week. Hmm....
2:00 - walk downtown across Detroit-Superior bridge to buy iPhone at ATT store; sky is blue, sun is shining, I'm whistling Zippity Do Dah. Life is good.
2:15-3:00 - ATT employee on the phone for a long time calling other stores, can't locate an 8 Gb iPhone for me to buy. I leave empty-handed. Bummed.
4:00 - back home, sit in sunshine & read for a bit. Things begin to look up.
5:00 - Joanne is home, I'm marinating pork chops to cook on grill, drinking a Great Lakes beer. Life is good.

How was your day today? Add your comment by clicking below.
Top | | i