It's really, really small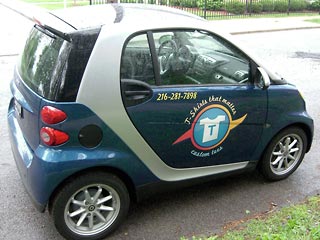 A student in my Web I class drove his smartfortwo to my house for our end-of-the-semester gathering. Parked on the street you can see just how small it is. An article in today's Plain Dealer said that the smart is three feet shorter than a Mini Cooper!
According to the student, owning a smart can be annoying since people constantly stop him to ask about it. He jokingly talked about printing a flyer that he could just hand to anyone with questions.
I have to say that pulling alongside a semi on the highway in one of these little guys wouldn't be reassuring, although driving around the city should be fun.With its size and three-cylinder engine I'm surprised the smart's gas mileage is only 40-45 mpg. That's way better than the 26 mpg that I get with my PT Cruiser, but I can carry twice as many people and a lot of stuff besides. So the smart is cute and all, but I'm not going to buy one anytime soon.
Top | |