Alice Neel, the painter and the movie
As you can see, she painted herself at 70 as fearlessly as she lived the rest of her life.
Alice Neel was a remarkable woman and a terrific painter who I'd never heard of before. I saw a documentary about her at the Cleveland Cinemateque tonight, partly because the description sounded interesting and partly because I had nothing better to do.
The film made by Neel's grandson Andrew had too many talking heads to keep me awake throughout—I nodded off once or twice early on. Many of the people interviewed were family members, and I had a hard time keeping straight who was a son, grandson, etc. I mistakenly thought that Neel herself had committed suicide, but a friend corrected me, explaining that it actually had been her estranged daughter.
On the other hand the artwork itself is a joy to look at. Neel painted mostly portraits, which kept her out of sync with the art world though much of her career. The portraits glow with life whether the subject is Andy Warhol or Alice's neighbors in Spanish Harlem. An online gallery on her website follows her career decade by decade, and is well worth a look. Unfortunately some of the larger images on the site are low resolution and leave you wishing for a clearer view.
The movie is a loving and seemingly honest look at a person who made few compromises to live her life as she thought best, and paid a price for it. As she put it: "...after my fashion I told the truth as I perceived it, and, considering the way one is bombarded by reality, did the best and most honest art of which I was capable." That statement seems to fit her grandson's movie as well.
Top | |

Baba ganoosh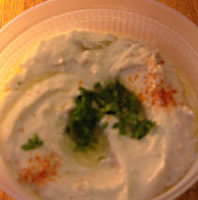 Last month when we were at Sharon's she gave me the job of making baba ganoosh from the eggplants that she'd just picked from her garden. I roasted them on the grill and followed one of her recipes to make my first batch of baba. Not so good. It didn't come anywhere near the flavor of what we're used to from Nate's Deli on West 25th, the gold standard in my book.
A couple of weeks ago I tried again at home, this time using big eggplants rather than the skinny Japanese ones Sharon had. I also left out the pine nuts that several different recipes called for.
This batch was pretty good. Not Nate's, but close enough. Today I bought a take-out order and asked at the counter whether they used pine nuts in their baba. The woman looked at me like I was crazy, and said no, just keep it simple.
OK, that does it. I'll stick with the roasted eggplant, tahini, lemon juice, garlic and salt. Here's a recipe that that should work.
Top | |