More eggplant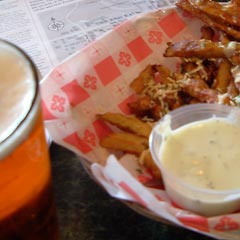 Speaking of eggplant, as we were yesterday, here's another winning recipe: take one cool but mostly sunny Sunday, add two bikes with riders, pour onto the Towpath Trail about ten miles south of Cleveland, stir vigorously with pedals for a couple of hours, and turn into the parking lot of Fisher's Restaurant in Peninsula, Ohio.
The result: hungry riders ready to dig into a plate of french-fried eggplant. And as someone who considers fried potatoes in any form the food of the gods, I'll take these fried eggplant strips before french fries any day. They're batter-dipped and fried crispy on the outside, soft and creamy on the inside.
They were served with a mild creamy wasabi dipping sauce, and I washed mine down with a Great Lakes Burning River ale. Food of the gods, indeed!
The rest of our lunch was good, too—Cobb salad for Joanne and Cubano sandwich for me. Fisher's is a great stop-off point on the Towpath Trail, something we keep in mind as we plan our rides.
While we were waiting for a table to open up we walked across the street to the new Peninsula Art Academy, a non-profit gallery/studio space that offers classes in glass blowing, weaving, painting and other art forms. We also visited Elements Gallery which features the work of potter Stephen Bures. All in all, a much more interesting way to wait for your table than sitting on a bench at the restaurant.
We did discover that the "beeper" the restaurant gives you is out of range once you cross the street. The manager was a bit annoyed when we finally strolled in to claim our table, fifteen minutes after they'd beeped us.
Top | |

Heading north
A favorite spot on the Towpath Trail near where it crosses under the Ohio Turnpike is a long boardwalk over a marshy area called Stumpy Basin. Much of it gently curves, while this section near the northern end is straight as an arrow.
Going south it seemed like we were fighting a headwind, so I thought the ride north would be easier. But as it often turns out, the wind if anything seemed stronger on the way back.
The sun played peek-a-boo all afternoon, warming us nicely when it shone and leaving us chilled when it went behind a cloud. A few degrees warmer would have made the ride more pleasant, but we figured it might be one of the last nice autumn afternoons so we'd better take advantage of it.
Top | |