Packaging overkill
Whatever good sustainabililty karma I may have earned recently by putting compact fluorescent bulbs all over my house, driving the speed limit, and raising worms for compost went out the window when I bought a T-shirt and pair of flip-flops from Martin & Osa.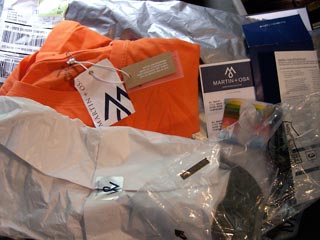 They arrived surrounded by layer upon layer of packaging: a thick plastic shipping bag, tissue paper wrapped around the flip-flops (in their own plastic bag), three different labels—one plastic—on a cord attached to the shirt (which was in a plastic bag) with a safety pin and finally a packing slip/invoice in its own blue heavyweight envelope. There was more wrapping than product.
I think the tags, tissue paper and fancy envelope holding the packing slip are supposed to make it seem like a high-class operation, and I admit that at first I thought it was a nice touch. As I unwrapped and set aside each piece it seemed less and less a good idea, and when I opened the envelope to find an ordinary packing slip I realized that something was very wrong here. Plastic bags alone would have protected the product adequately, the rest was for show. And wasteful.
I won't be ordering from this company again, that's for sure. I'd never heard of them before but got an email that offered a 20% discount and promised free shipping and free returns for merchandise. I'm a sucker for a bargain, and the free shipping/returns seemd to eliminate one of the drawbacks to online shopping. When I went to the site it seemed kind of cool in a generic way. The merchandise was priced a little higher than Land's End but the 20% discount would bring that down, so I ordered an orange T-shirt and a pair of flip-flops. With the discount these came to about $13 apiece with no charge for shipping.
That part of the shopping experience was fine, and the shirt and flip-flops seem pretty good quality, but the excess packaging can't be justified. Just as well—I don't need yet another retailer tempting me with catalogs and emails.
Top | |