Today they got it right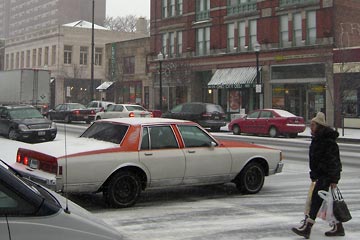 Last night the weather people started scrolling warnings across the TV screen predicting a winter storm for today. Online this morning at Weather Underground the forecast was "light snow" probable at 1 pm, and guaranteed by 4 pm.
I thought I'd check their accuracy, and darned if they weren't right on the money. In my neighborhood at 1:40 light snow began to fall, and at 4 it was still snowing. West 25th Street looked pretty winter-y for the first time this year.
The walk to the West Side Market and back wasn't bad—no wind to fight. Tomorrow there are supposed to be 30-40 mph gusts with more snow or rain. Sounds nasty.
Top | |