It's official: Spring Break, Day 1
OK, maybe not the best way to start: a dentist appointment with Dr. Buzzelli. But I've been putting off seeing the dentist for oh, maybe three or four years, so it was about time. So he found a couple of teeth that need work, no big deal. Another appointment on Thursday.
Things got better afterwards with a trip to the Lakewood Library followed by a cappuccino at Phoenix Coffee on Detroit. Much better. I drove home, ate lunch, read for a while, and then started a wild-goose chase to find pictures of one of my driving trips to Aspen, Colorado. I used to go to the International Design Conference at Aspen (ICDA) every couple of years. Two or three times I drove, once I took a Greyhound, and a couple of times I rode Amtrak to Glenwood Springs and then took a bus or hitch-hiked in to Aspen.
Digging through boxes of old pictures, magazines, letters and sketchbooks from college, I felt like I was living and Internet search, the kind where you start out looking up one topic and end up following interesting links to someplace (topic) totally different. I ended up with a box of old color slides from the mid-sixties to 1972.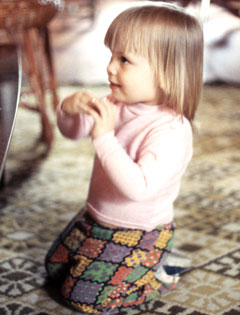 This led me to finding the transparency and film holders for my Canon scanner. They were in the wastebasket which I fortunately hadn't emptied. Somehow a week or two ago I'd thought they were from my long-gone Polaroid scanner, so I tossed them.
Fishing them out—and eventually resorting to reading the scanner manual—I discovered how to scan a slide, yielding this cute picture of Sharon at age 1 or 2. The color and the overall character of the photo has a soft warm look to it, unlike a digital image.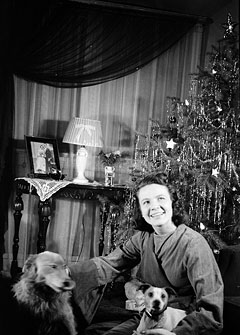 With my newfound scanning skills I pulled a negative out of an envelope my mom had given me months ago, asking if I could make a print. According to her handwritten note, this picture was taken when she and dad lived upstairs at her mom's house, early in their marriage. I'll have to ask about the dogs. I know they had a little one named Pepper, probably the one looking right at the camera. But I don't remember talk of two dogs.
Satellite
And finally I scanned the last of the treasures I found in my search: The Earth Satellite, a booklet published shortly after the Russians launched the first satellite, Sputnik. Inside the booklet is a 45-rpm record described on the cover as THE MOST THRILLING HISTORIC RECORDING EVER MADE.
Last October, this is the book I was looking for: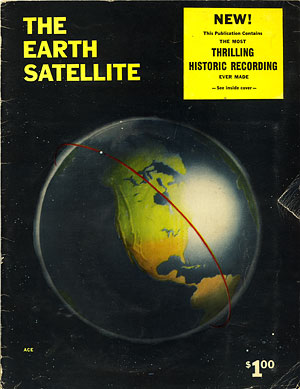 Top | |