Classical Chinese Garden
I spent an hour enjoying Portland's Classical Chinese Garden in the heart of downtown today. It's similar to the Japanese Garden we visited a couple of days ago, but the differences were almost more noticeable than the similarities.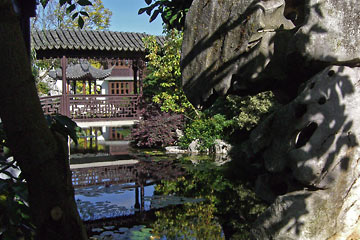 Yes, water, plants, trees, bridges, rocks and other elements are part of both gardens. Yes, to an American eye they both look "oriental." But where the Japanese garden is made to feel very much a part of nature, the Chinese one constantly reminds you of its human origins.
There are quite a few ornate structures, some small, some fairly large, in a limited area. In this picture you can see a bridge, a small pavilion and a two-story structure at the very back.
This view, like many in the garden, deliberately creates a "layered" view of multiple areas and features. I felt like I was constantly being forced to look at a specific scene in a certain way, almost like Disneyland has its Photo Points sponsored by Kodak ("where you can't fail to take superb photos").
Don't get me wrong, this is indeed a lovely place, well worth a visit. But I prefer the lower key approach of the Japanese garden, where the manmade elements are designed to become part of the landscape rather than call attention to themselves.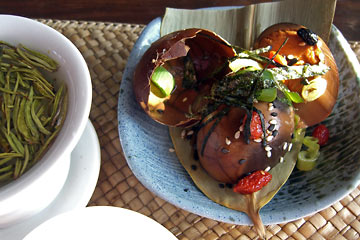 Of course I had to try something at the Tea House, so ordered a Tea-Marbled Egg and a pot of Silver Needles white tea.
The deep mahogany color and earthy, spicy flavor of the egg was very nice, especially with the black and white sesame seeds and other garnishes. The tea was mild but by the second cup I began to appreciate its subtle flavor.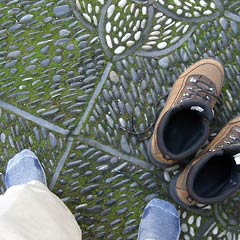 After finishing my tea I walked around the garden one last time, and in passing a tour group I heard the guide suggest that people take their shoes off to enjoy the stimulation provided by the various patterned pebbled surfaces throughout the garden.
I took off my boots and walked for a while more. The sensation was somewhere between pleasant and ow! ow! ow!. Worth a try, anyway.

Add your comment by clicking below.
Top | |