Birthday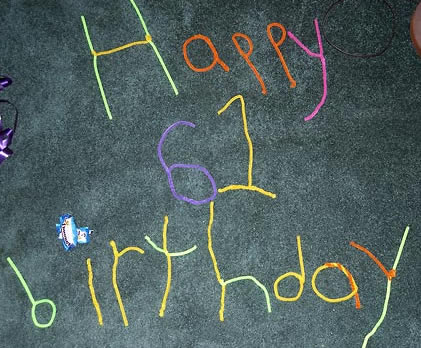 With a painful feeling of deja vu I'm reconstructing this entry for Dec. 17th. On the 18th I once again deleted and replaced it just like I did a couple of days ago with the 12th. A sign of too much to think about.
I don't remember making this mistake anytime in the last year, and now twice in less than a week. Not a good sign.
But I remember that yesterday I was happy to share a picture of the birthday greetings my 10-year-old grandson Xavier made for me out of pipe cleaners. My favorite parts are the cheery "t" and the fancy "a" in "birthday." Today I found a solid orange "a" in the driveway that he must have dropped coming into the house, so he had to improvise to replace it. I like the multi-colored results.
I also remember that the number in the middle didn't make me feel good. The march of time is downright scarey sometimes. Not like we have any choice in the matter.
And I also know that I ended up lamenting the slow progress I'm making with the GPS-based tour I'm trying to put together for a client. My learning seems to be advancing painfully but slowly. Because the software is new, there's not much support available, and I'm frantically trying to figure things out as I go. Yesterday I had the feeling that I was teetering on the edge of a pit of despair.
Top | |