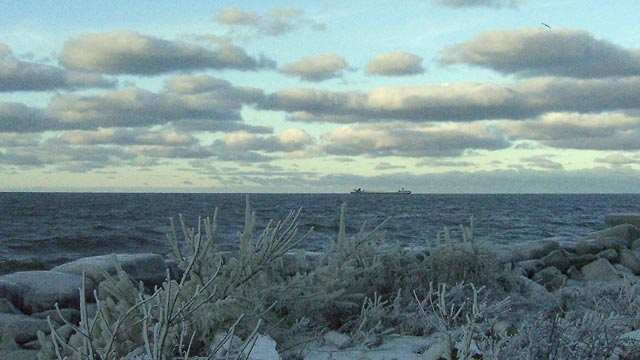 Icy weather
I got to Edgewater Park today around 4 pm, when the temperature was in the low 20s and there was a brisk northwest wind. The lake was choppy and the clouds were gorgeous as a freighter headed to the northwest. The rocks and bushes were coated with ice. I told myself I'd walk a lap, about a mile.
This of course is a trick I use regularly when I don't feel much like exercising: set the bar as low as possible. A lap around the Edgewater lower trail is .92 miles, less than 15 minutes. No problem doing that. When I got back to my starting point I decided a second lap wouldn't be a bad idea.
Of course that decision was made when the wind was at my back. A half mile later I was walking right into the wind, and my lips were numb from the cold while my fingertips were tingling. So I just focused on finishing the lap. When I did, of course I was feeling warmer again (the wind at your back effect). I'd also started thinking ahead to that last piece of homemade tiramisu waiting for me in the refrigerator. OK, that's about 400 calories, so I'd better do another lap.
Lap three was my last, as the wind was giving me a headache despite the stocking cap I had pulled as low on my forehead as I could. I turned off the track and went back to my car. My little self-deception had worked: after starting with the goal of walking a lap I ended up going for 52 minutes, 3.7 miles. I earned that dessert after all.
Top | |